Sage remarks and wrap-up
Level up!!
Everyone beat the 2018 level of the AZ Treasure Hunt and can all press PAUSE until next year!
All except our first place team who are welcomed into the Committee now, Cabilis East Sidaz!
These suckers, er, winners had a great time of 15.93 minutes per clue.
Congratulations to our "real" winners, the second place team Car 54:
These smart fellas had a time of 17.40 minutes per clue.
Kudos also to the third place team, Badonkeydonks: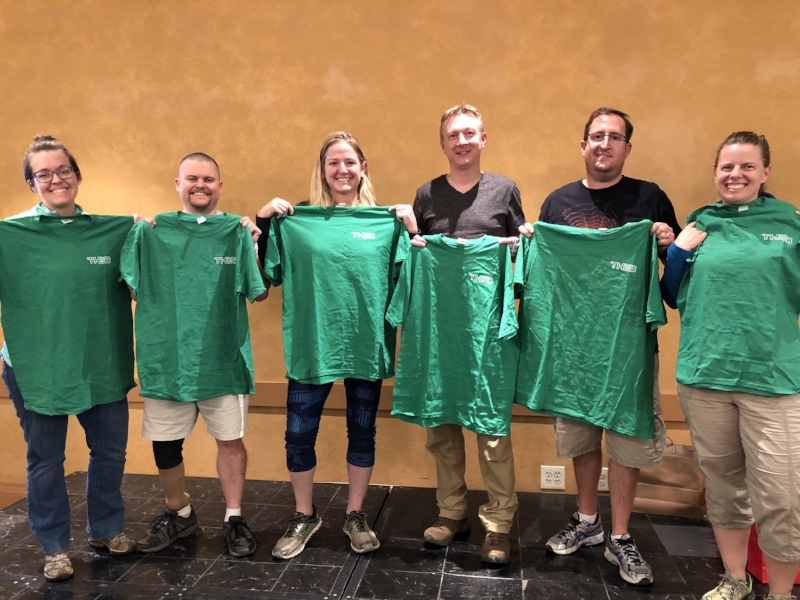 Badonkeydonks earned their green shirts with an average time per clue of 18.24 minutes.
We had the maximum number of teams this year at 90, including an incredible class of 11 rookie teams this year. The best one, GGWP at 8th place, is the highest anyone can remember a rookie team ever placing!
20.25 minutes minutes per clue…are they rookies or ringers?!
The Wizards always enjoy the clever thematic team names every year, and our favorite this year was A Little Ditty About Jackass and White Van.
As always, the Committee sincerely appreciates any feedback via the survey. Your suggestions really can result in changes to the Hunt, such as this year when we did away with displays at Check Out in favor of practice clues and a relaxed atmosphere. So far, 85% of survey respondents this year prefer the new Check Out, so I'm sure future Committees will continue it!
Of course, the Committee will be making those decisions without me or my teammates, because this was our last year on the Hunt Committee. Being on the Committee has been an extraordinary experience and an honor. There really is so much that goes on in the background all year to make each Hunt successful. We are all excited to see what the 2019 Committee creates for us next year, and I hope to see you all out there!
-Renee Strouts, 2018 Sage, on behalf of the TH2018 Committee